Category Archives:
Social Media
Posted on
Monthly Product Update August 2012 This month's Google Analytics features make it easier to learn about campaigns as they launch, access key reports, and incorporate conversion path data into your applications. What's New Segment Real-Time data to learn about campaigns as they launch In your Real-Time reports, click on a page element to segment your data by different dimensions, such as country or medium. Segmenting your Real-Time data can help you view the performance of a geo-located PPC campaign, measure which content is most popular in large metro areas, observe how social media is impacting site traffic from an industry conference, and more. Learn more. Save time finding your favorite reports with Shortcuts Shortcuts help you get the exact view you want of your Analytics data in record time. Rather than having to go through the "find report, add segment, change sort" process daily, use Shortcuts to do it once, save it, and come back to it in a single click. Learn more Easily export & analyze Multi-Channel Funnels data with the API Use the MCF Reporting API to query for metrics from the Analytics Multi-Channel Funnels reports and incorporate conversion path data into your applications. Key uses for this include combining conversion path data with other data sources–such as cost data–to create new visualizations, as well as using conversion path data to automate processes such as bidding. Learn more. Case Studies & Education Watch: "Multi-Channel Funnels" webinar to learn how to improve your marketing campaigns … Continue reading →
Posted on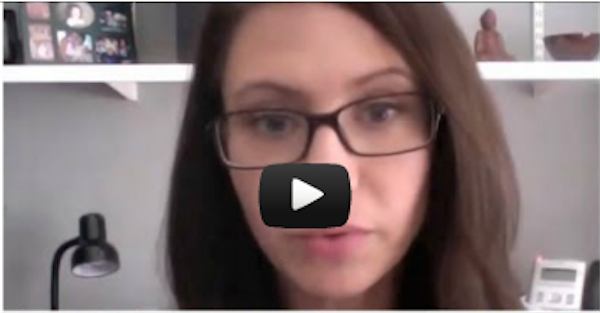 When I open my inbox google is encouraging me to upgrade so I can video chat with up to 9 people. No thanks, I'm ok. But there is a video with Google Girl explaining how to do Hangouts and how to get things done. Video chat with up to nine people Upgrade to Google+ to get more out of Hangouts and go beyond one-to-one video chat. You'll be able to chat with up to nine people at once, collaborate on Google Docs together and more – just like Google Girl does. Google Girl Images Here are a few more images of Google Girl from the video:
Posted on
We are excited to share more details about AWS re: Invent, our first global customer and partner conference. Join the best and the brightest developers, hottest start-ups, and visionary technology leaders in Las Vegas, November 27-29 and be part of the largest gathering of the AWS community. Important Details Full Conference Pass: $1099 Registration Open Date: July 25, 2012 Find the latest information on tracks, sessions, and speakers on the AWS re: Invent website. We have built the agenda around topics requested by customers. Choose from over 150 sessions led by AWS engineers and architects, product managers, AWS customers and partners, including: AWS Best Practices Compute & Networking, Databases, Storage, Content Delivery… Cloud Computing Use Case Web apps, Big data, High performance computing, Disaster recovery, Mobile, Media sharing… Enterprise IT Migrating enterprise apps to the cloud, Governance and security best practices, Customer case studies… Architecture High availability best practices, Scaling and Performance Tuning, Networking architectures… Developer Tools Using AWS SDKs for your favorite language, Architecting for cost savings, Deployment management tools from AWS and partners… AWS Resource Management Tips for lowering your bill, DevOps in the cloud, Automation and deployment best practices, Performance optimization, Testing… Security Cloud Security best practices, Building PCI and HIPAA Compliant apps, Identity and access management… New AWS Services How to get started with recently launched services like Amazon DynamoDB, Amazon CloudSearch, Amazon Simple Workflow Service… Service Team Office Hours Connect with engineers and product managers to get your technical questions answered Mark … Continue reading →
Posted on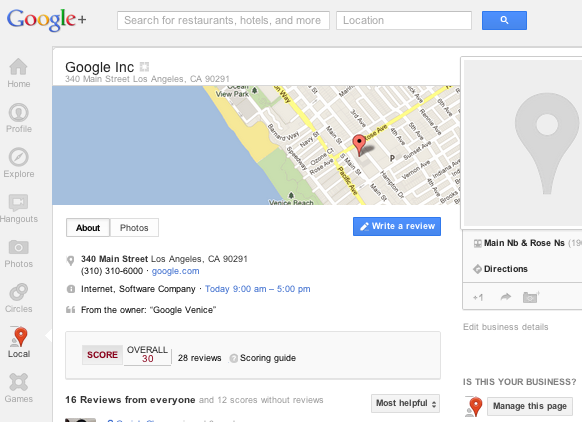 Why doesn't Google Places allow access by multiple users? Transcript Today is more of a feature request. Um, it's a question from the excellent Jonathan Hochman in Connecticut. Jonathan asks: "It's not good for security when I have to ask clients to share their Google credentials with me so I can help edit their Google Places listings. Why doesn't Google Places allow access by multiple users, like Google Webmaster Tools does?" Ok, well first off, I'm not responsible for Google Places so the best I can do is say, that's a good feature request, I'll pass it on to them. The way to think about these things is that typically there is a spectrum of sophistication, and how far along these things are developed. So, AdWords had the ability to you know, manage things on behalf of your clients relatively early on. Google Webmaster tools has done better about allowing delegation, but it's still not perfect, but it's a lot better than it was a little while ago. Google Places is even newer than Google Webmaster Tools, so it'll probably take some time before they think about, you know, the ability to delegate, the ability to let you manage things on you're clients behalf. Um, but just to put stuff in perspective, I was reading -Tamar Weinberg had written a letter about-she became an administrator of Fan Page on Facebook. And it looked like it was permanent; it didn't look like you could change the administrator. So all of this … Continue reading →
Posted on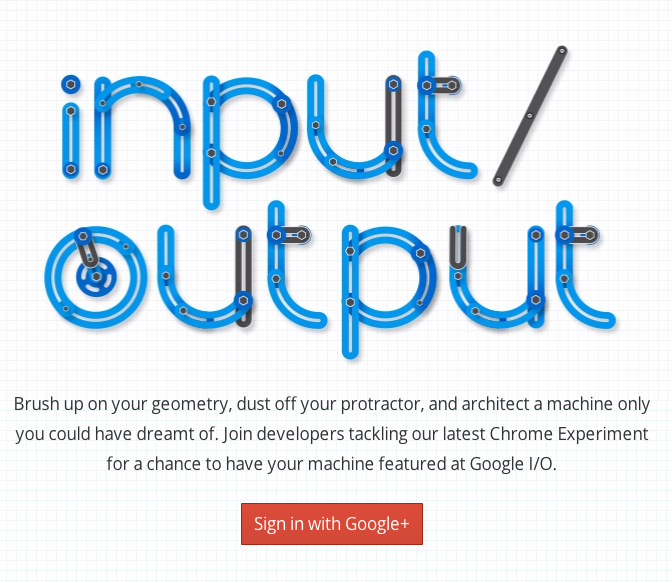 Google I/O 2012 brings together thousands of developers for three days of deep technical content focused on building the next generation of web, mobile, and enterprise applications with Google and open web technologies such as Android, Google Chrome, Google APIs, Google Web Toolkit, App Engine, and more. Brush up on your geometry, dust off your protractor, and architect a machine only you could have dreamt of. Join developers tackling our latest Chrome Experiment for a chance to have your machine featured at Google I/O. The keynote and the sessions for Chrome, Android, Google+ and other select sessions will be streamed live across four channels during the first two days of Google I/O. Be sure to bookmark this page and check back on June 27. Learn the latest web, mobile and social breakthroughs and meet the developers who are turning them into tomorrow's businesses. Keep yourself and your team innovating at Google I/O, returning to San Francisco's Moscone Center from June 27th – 29th, 2012. https://developers.google.com/events/io/input-output/
Posted on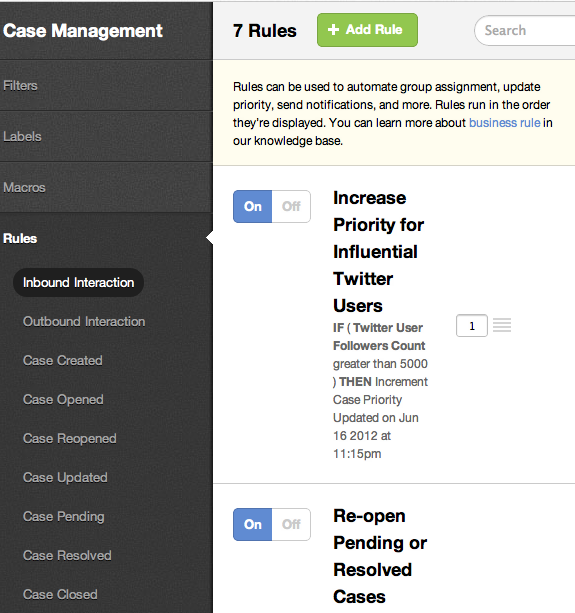 One of the Rules / Macros on Desk.com is called "Increase Priority for Influential Twitter Users" The rule does basically what it says: if you have more than 5k followers on twitter you get higher priority support. I wonder how many companies that are using desk.com have this rule / filter enabled. Increase Priority for Influential Twitter Users IF ( Twitter User Followers Count greater than 5000 ) THEN Increment Case Priority
Posted on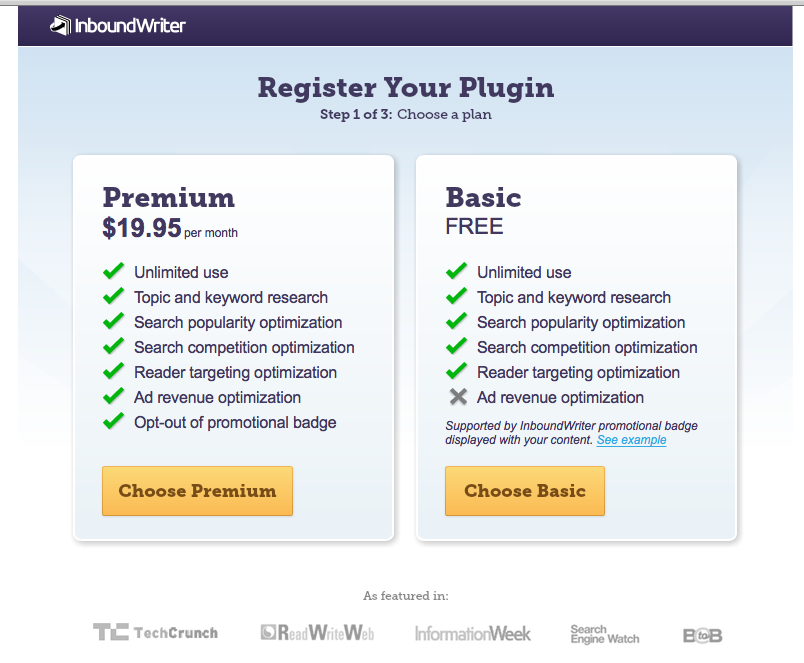 Inboundwriter: Register Your Plugin / Choose Pricing for Inbound Writer Step 1 of 3: Choose a plan Premium – $19.95 per month Plan I: Unlimited use (Premium) Unlimited use Topic and keyword research Topic and keyword research Search popularity optimization Search popularity optimization Search competition optimization Search competition optimization Reader targeting optimization Reader targeting optimization Ad revenue optimization Opt-out of promotional badge Basic – FREE Topic and keyword research Topic and keyword research Search popularity optimization Search popularity optimization Search competition optimization Search competition optimization Reader targeting optimization Reader targeting optimization Ad revenue optimization Supported by Inboundwriter promotional badge Displayed with your content As featured in: Tech Crunch ReadWriteWeb Information Week Search Engine Watch B to B
Posted on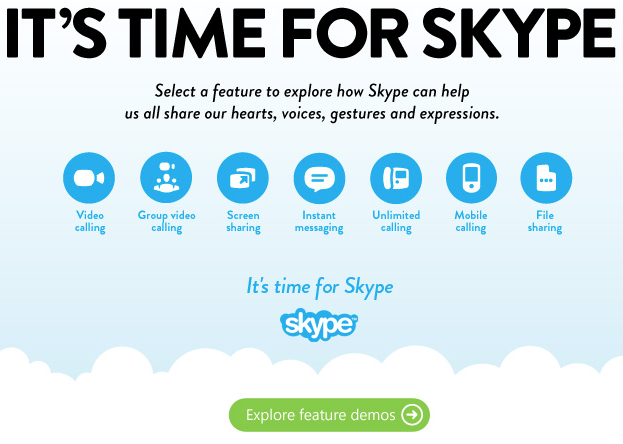 Select a feature to explore how Skype can help us all share our hearts, voices, gestures, and expressions. Skype now includes: Video calling Group video calling Screen Sharing Instant Messaging File Sharing Unlimited Calling Mobile Calling Explore feature demo
Posted on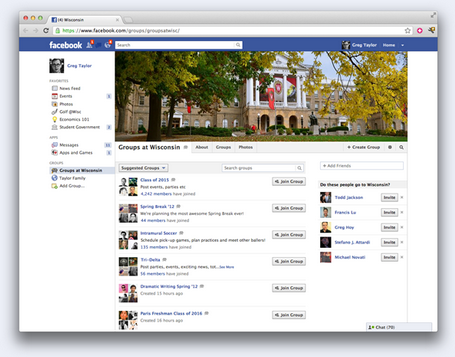 Facebook has recently announced something it's going to launch, called "Groups for Schools" targeted at the school crowd: Colleges and Universities Today we're announcing Groups for Schools, which allow people with an active school email address to join groups at their college or university. Groups for Schools will gradually be rolling out to colleges and universities around the world. You can sign up to find out when it will be available at your school. To learn more about how to use Groups at Schools, visit the Help Center. Learn more at the facebook news room.
Posted on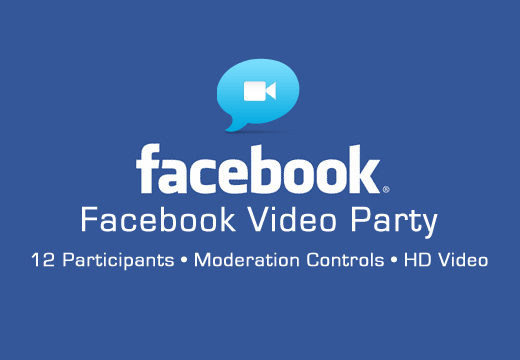 Facebook Video Party 12 Participants Moderation Controls HD Video Apparently you can mute the whole room for presentations, kick/ban trolls, and has two extra spots for presenters. I've heard the video and sound quality is absolutely unreal, plus you'll be able to use a bluetooth headset with the iphone to participate via mobile. I'll try to see if I can get a beta screen shot sometime tomorrow. via https://plus.google.com/115957092291818573863/posts/cAVySAw8icX
Posted in

Marketing, Social Media, Tech Opinion, Tech Tips
|
Tagged

chat, facebook, FVP, go2meeting, hd, party, video, webex
|
Leave a comment