Tag Archives:
conference

Hello again from AWS re: Invent! The second day of AWS re: Invent in Las Vegas started off with a great talk from Amazon.com CTO Dr. Werner Vogels. After a brief recap of yesterday's announcements (Amazon Redshift and the S3 price reduction), Werner discussed the role of system architecture in today's world of unconstrained, programmatic access to processing, storage, and network resources. He emphasized that new architectures must be scalable, fault-tolerant, high-performance, and cost-effective. His talk included guest speakers from Pinterest and Animoto, along with live, dynamic demos conducted by AWS Evangelists Matt Wood and Simone Brunozzi. Werner announced a pair of new Amazon EC2 instance types, one for high storage applications and another for high memory applications. He also announced the AWS Data Pipeline. New Amazon EC2 instances Two new Amazon EC2 instance types will be made available to customers in the US East (Virginia) region in the coming weeks. High Storage Instances are a new Amazon EC2 instance optimized for customers that need high storage depth and high sequential I/O for applications like data warehousing, Hadoop and data-intensive HPC. High Storage instances will be available in a single size, High Storage Eight Extra Large (hs1.8xlarge), and have 16 virtual cores, 24 hard disk drives, 48 TB of storage capacity, 117 GiB of RAM and 10 Gigabit Ethernet networking. Cluster High Memory instances are another new Amazon EC2 cluster instance type optimized for memory-intensive analytics and scientific computing. Cluster High Memory instances will be available in a single size, … Continue reading →

Greetings from Las Vegas, host city for AWS re: Invent! AWS Senior Vice President Andy Jassy kicked off AWS re: Invent with a rousing 90 minute keynote presentation in front of 6,000 attendees, with another 13,000 watching the live stream. Andy's talk covered a lot of ground! Starting with the history and growth of AWS over the last 6.5 years, he talked about important AWS use cases including web site hosting, gaming, social media, high performance computing (HPC), media distribution and streaming, disaster recovery, and more. He noted that AWS has hundreds of thousands of customers in 190 countries. This includes over 300 government agencies and 1500 educational institutions. Andy also used this opportunity to reveal some updated statistics on the growth of AWS – over 1.3 trillion objects in Amazon S3 (accessed at a rate of over 835,000 requests per second) and 3.7 million Hadoop clusters launched on Elastic MapReduce in the past two years. During the keynote we also announced Amazon Redshift, our new data warehouse product and an Amazon S3 price reduction, drawing applause from the live audience and a similarly appreciative reaction online. Amazon Redshift Amazon Redshift is a fast and powerful, fully managed, petabyte-scale data warehouse service in the cloud. Redshift offers you fast query performance when analyzing virtually any size data set using the same SQL-based tools and business intelligence applications you use today. With a few clicks in the AWS Management Console, you can launch a Redshift cluster, starting with a few hundred … Continue reading →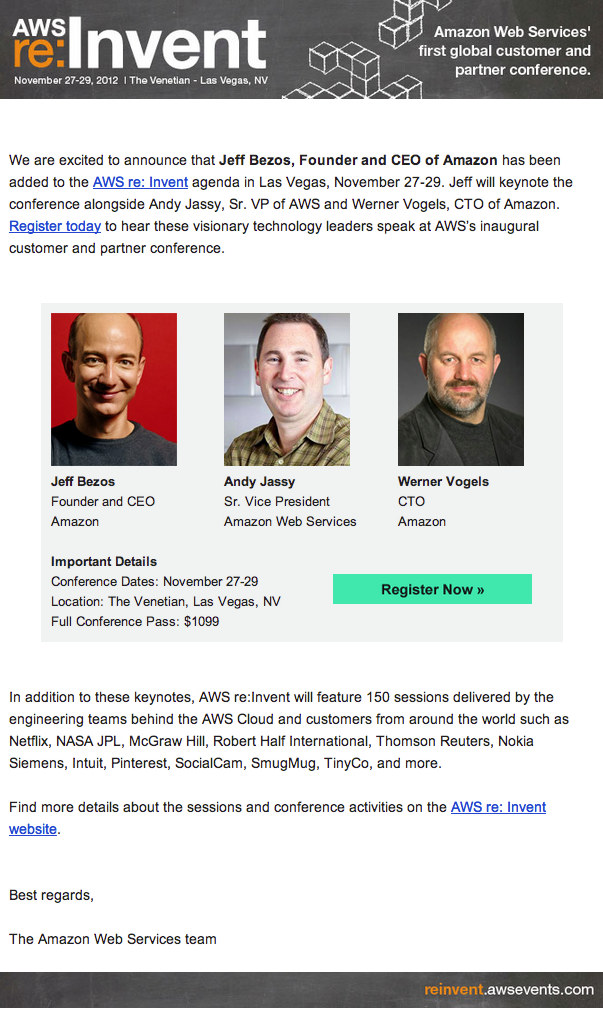 We are excited to announce that Jeff Bezos, Founder and CEO of Amazon has been added to the AWS re: Invent agenda in Las Vegas, November 27-29. Jeff will keynote the conference alongside Andy Jassy, Sr. VP of AWS and Werner Vogels, CTO of Amazon. Register today to hear these visionary technology leaders speak at AWS's inaugural customer and partner conference. In addition to these keynotes, AWS re:Invent will feature 150 sessions delivered by the engineering teams behind the AWS Cloud and customers from around the world such as Netflix, NASA JPL, McGraw Hill, Robert Half International, Thomson Reuters, Nokia Siemens, Intuit, Pinterest, SocialCam, SmugMug, TinyCo, and more.