Tag Archives:
texteditor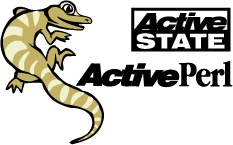 Recently I had to setup Active Perl with Sublime Text 2 in Windows 8. After adding a new build system and setting up the path to perl.exe with the -w flag I wanted to figure out what other flags were available. You can pass perl several flags: bin/perl -w bin/perl -p bin/perl -d bin/perl -i bin/perl -t bin/perl -pe bin/perl -pi Here are what the perl flags do: -i: Modifies your input file in-place -w: Activates some warnings -d: Runs under the Perl debugger -t: Treats certain "tainted" code as warnings -p: Places a printing loop around your command so that it acts on each line of standard input. -e: Allows you to provide the program as an argument rather than in a file.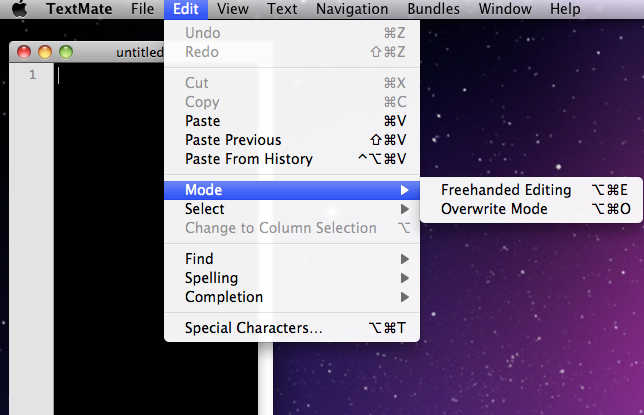 When I click somewhere on a line of text – in the empty space part after content – the cursor moves to the exact position I've clicked rather than jumping to the end of the line like every other editor seems to do. This is how to reset this behavior and fix Textmate – that is, to click and have the cursor move to the end of that line and not to the actual position you click with the mouse. This is caused by Freehand Editing mode being turned on. Here are the two editing modes that Textmate allows, and here is how to enable / disable both of them: Freehand Editing (Edit » Mode » Freehand Editing) Allows the caret to move past end of line and inside tab characters. It is also possible to place the caret unrestricted by line endings (and tabs) by holding down ? while placing the caret with the mouse. Overwrite Mode (Edit » Mode » Overwrite Mode) This lets you type over existing text
If you like e textEditor and are looking for a way to edit your theme like me, you might be somewhat frustrated with the available documentation. The default theme files are stored inside of "C:\Program Files (x86)\e\Themes\" (nix the x86 for xp or vista/7 32 bit). However, after you edit a theme you'll find that those file are exactly the same – there have been no updates or changes! So how does E-textEditor know about / save your changes? Answer: A local preference file is stored in your Application Data folder. This is also a .tmTheme file, and should be located in the following directories: vista/7: C:\Users\username\AppData\Roaming\e\Themes xp: C:\Documents and Settings\username\Application Data\e\Themes You can also remove the files stored in this directory to reset your themes back to the default. Try checking out Blackboard.tmTheme for a nice try at a darker theme.