Tag Archives:
webmaster tools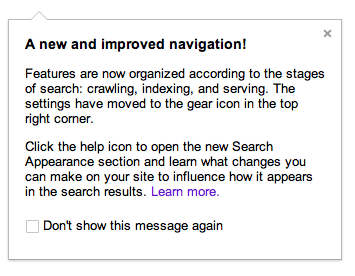 As of July 2013 Google Webmaster tools has a "new and improved" navigation. They alert you when you login. A new and improved navigation! Features are now organized according to the stages of search: crawling, indexing, and serving. The settings have moved to the gear icon in the top right corner. Click the help icon to open the new Search Appearance section and learn what changes you can make on your site to influence how it appears in the search results. One of the main features is "Search Appearance" which has information about the data highlighter, rich snippets, and microformats. More info about those at https://support.google.com/webmasters/answer/3187759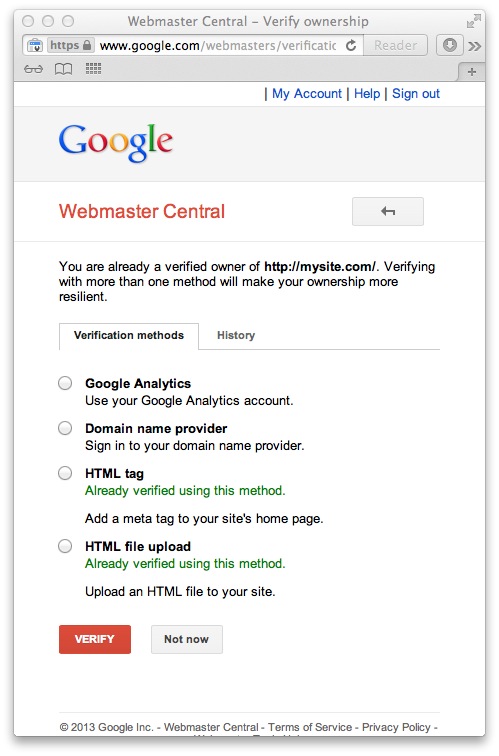 To verify your website with Google Apps / Google Webmaster tools you can use the url below. Here is a screenshot of the verification: And here is the URL you can use – just replace the yoursite.com part: https://www.google.com/webmasters/verification/verification?siteUrl=http://yoursite.com&pli=1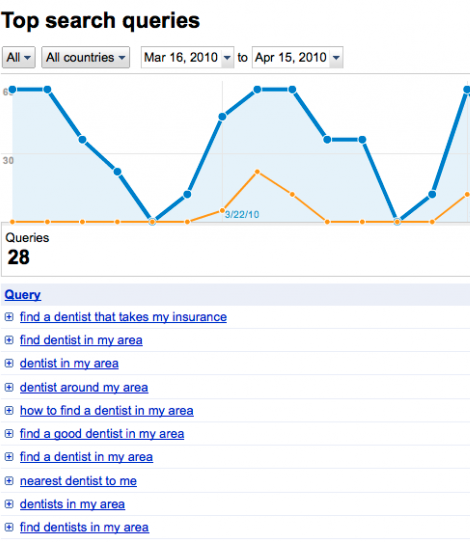 Dear Webmaster Tools user, We know that having a healthy and well-performing website is important to you. To keep you informed about your site's status Webmaster Tools will now automatically send you a notification email if there are critical or important issues that we detect with your site. We'll only send you email for issues that we think have significant impact on your site's health or search performance which have clear actions that you can take to address. For example, we'll email you if we detect malware on your site or see a significant increase in errors while crawling your site. For most sites these kinds of issues will occur rarely. If your site does happen to have an issue we cap the number of emails we send over a certain period of time to avoid flooding your inbox. If you don't want to receive any email from Webmaster Tools you can change your email delivery preferences at https://www.google.com/webmasters/tools/preferences. We hope that you find this change a useful way to stay up-to-date on critical and important issues regarding your site's health. If you'd like more information about Webmaster Tools and building Google-friendly websites please visit http://www.google.com/webmasters. The Webmaster Tools Team © 2012 Google Inc. 1600 Amphitheatre Parkway, Mountain View, CA 94043 You have received this mandatory email service announcement to update you about important changes to your Google Webmaster Tools account.