The best WOL software for Windows XP, 98, Vista
I really like this utility a lot. It works well with XP, Vista, and 7.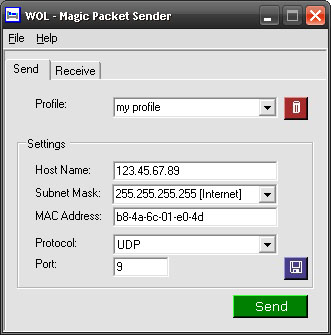 Before I was using this one I was using "Wake on Lan for Windows Graphical User Interface (GUI)" by depicus.
It's lightweight and starts faster than the magicpacket.free.fr one, but it also does not resize very well or look good in Vista or 7, and it does not allow you to save multiple profiles.
Nevertheless, there are some decent Wake On Lan resources available from Depicus.
For Mac
If you need a good, free one for Mac, try WakeOnLan by readpixel.

WakeOnLan discovers all other computers in your LAN, and enables you to wake them up by clicking a button. If your remote computer is a Mac you can put it asleep too.
Related Posts: