Amazon EC2

Amazon Elastic Compute Cloud (Amazon EC2) is a web service that provides resizable compute capacity in the cloud. It is dersigned to make web-scale computing easier for developers.
Amazon EC2's simple web service interface allows you to obtain and configure capacity with minimal friction. It provides you with complete control of your computing resources and lets you run on Amazon's proven computing environment. Amazon EC2 reduces the time required to obtain and boot new server instances to minutes, allowing you to quickly scale capacity, both up and down, as your computing requirements change. Amazon EC2 changes the economics of computing by allowing you to pay only for capacity that you actually use. Amazon EC2 provides developers the tools to build failure resilient applications and isolate themselves from common failure scenarios.
Digital Ocean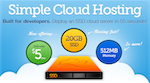 Deploy an 512MB RAM and 20GB SSD cloud server in 55 seconds for $5/month. Simple, fast, scalable SSD cloud virtual servers. This competitor was recently featured on Uncrunched and the site boasted, "Digital Ocean v. AWS: 10x Performance For 1/3 Cost".
I am floored at how fast their servers are (if you know linux try doing something like du or updatedb or even find / -iname "*firefox*" – each command takes about 1 second!
Slicehost / Rackspace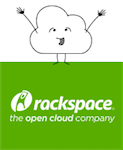 Create Cloud Virtual Servers in minutes and pay per usage. Get a Windows or Linux Cloud Server with root access. 1 to 50 servers in minutes. Choose a server size and pay for what you use. Accessible via online control panel and open API. Easily Control Your DNS. Fully customizable with root access. Fanatical Support always included. No long-term contracts, pay for what you use. Up to 30 GB servers.
Clouder

Clouder has adopted the latest innovations in cloud virtualization and storage to give early access to industry-leading technologies. Not exactly a 1:1 for Amazon EC2, they work to eliminate the "middle layers" of the virtualization of cloud computing. They propose that by eliminating the need of a "hypervisor" and by sharing a common layer of OS, that their container technology gives Fast Provisioning, Better Elasticity ( container resources can be easily scaled up without reboot ), and Higher Performance due to the efficiency of each container. They are currently offering 3 months of free hosting as they are currently in beta.
MediaTemple

Media Temple hosts web sites. Big and Small. For years we've taken complex technology and simplified it for the everyday web site owner. Our products are designed to be powerful, affordable and relevant. Please take a look around; perhaps (mt) is a good choice for your next project.
http://mediatemple.net/webhosting/dv/pricing.php
Linode

Instantly deploy and manage an SSD server in the Linode Cloud. Get a server running in seconds with your choice of Linux distro, resources, and node location.
JoyentCloud

The Fastest and Easiest Way to Deploy and Scale Node.js Apps in the Cloud
http://www.joyentcloud.com/lpages/node/
Google Compute Engine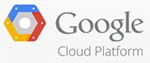 Part of the Google Cloud Platform, Google Compute Engine provides cloud computing & IaaS. Run large-scale computing easily with Google's Compute Engine. Our Compute Engine is an IAAS that allows for scalable and efficient hosting configurations.
https://cloud.google.com/products/compute-engine/
Slicify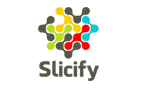 Slicify – Crowd-sourced Compute. Not exactly a 1:1 alternative, Slicify is a marketplace where individuals and businesses can buy high-performance compute power from anyone with a Windows PC. As a result, they can offer CPU power for batch processing, heavy calculations and online workloads (such as CGI/rendering, data analysis, scientific computing and more) at a fraction of the price of traditional cloud compute providers.
Windows Azure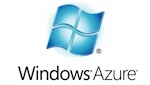 Windows Azure is an open and flexible cloud platform built for you.
Terremark / vCloud Express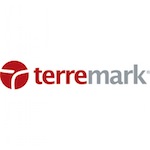 Terremark brings the power of the cloud to the enterprise with solutions built to integrate seamlessly into your existing I.T. infrastructure, compatible with your existing applications, and conforming to your policies and compliance needs, helping you move faster, respond quicker, and accelerate innovation. Terremark's Enterprise Cloud gives you precise, dynamic allocation of computing resources with the scale, performance and security to handle enterprise-wide applications. Large organizations, IT executives and multi-site teams will appreciate the robust solution for its multi-user capacity, dedicated resource pool architecture and role-based security model as well as private network connectivity and physical device integration.
http://vcloudexpress.terremark.com/
Xen Cloud Computing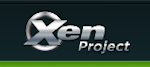 Cambridge University started the Xenoservers project, aiming to develop public infrastructure for wide-area distributed computing, in the late 1990s. In 1999, The Cambridge team published a Hot Topics in Operating Systems paper that described Xenoservers as "A new distributed computing paradigm, termed global public computing, which allows any user to run any code anywhere. Such platforms price computing resources, and ultimately charge users for resources consumed." http://www.xenproject.org/users/cloud.html
Eucalyptus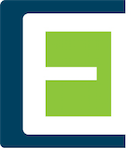 Eucalyptus is the world's most widely deployed cloud computing software platform for on-premise (private) Infrastructure as a Service clouds. It uses existing infrastructure to create scalable and secure AWS-compatible cloud resources for compute, network and storage.
DuraCloud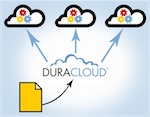 DuraCloud makes it easy to store and do more in the cloud. Our service makes the preservation of your content simple and cost effective. DuraCloud is the only service that makes it easy to move copies of your content into the cloud and store them with several different providers, all with just one click. We eliminate the risk of storing content with a single cloud provider by making it easy to move and copy files of any shape or size.
SoftLayer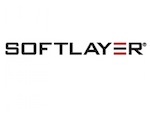 Deployed in hours, not days, each dedicated server comes with the industry's most complete selection of services with the opportunity to choose additional hardware upgrades and service options.
http://www.softlayer.com/cloudlayer/computing/
GoGrid

GoGrid cloud hosting allows you to build scalable cloud infrastructure in multiple data centers using dedicated and cloud servers, elastic F5 hardware load balancing, and cloud storage with total control through automation and self-service.
http://www.gogrid.com/cloud-hosting/cloud-hosting-pricing.php
AT&T Cloud Architech

Now, complicated configurations are a thing of the past. With AT&T Cloud Architect, there's an automated, standardized and fast way to pick, provision and deploy servers over the web within minutes or hours, not days. There's no need to buy or build out your own on-premises infrastructure.
IBM Cloud Computing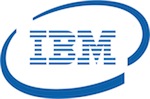 More for companies than individuals, IBM offers a cloud "IBM SmartCloud is our family of enterprise-class cloud computing technologies and services for securely building and using private, public and hybrid clouds."
http://www.ibm.com/cloud-computing/
IBM Cloud Pricing Calculator: http://www-935.ibm.com/services/us/en/cloud-enterprise/tab-pricing-licensing.html
OVH (uk based)

ISO 27001 dedicated virtual datacentres, unlimited resources. Create your secure Public, Dedicated or Hybrid Cloud – get the best value and performance
OpenStack

Open source software for building private and public clouds. OpenStack Software delivers a massively scalable cloud operating system. A global collaboration of developers and cloud computing technologists producing the ubiquitous open source cloud computing platform for public and private clouds. The project aims to deliver solutions for all types of clouds by being simple to implement, massively scalable, and feature rich.
LeaseWeb

LeaseWeb is an industry leader in hosted IT infrastructure, specialized in dedicated servers, colocation, cloud hosting and custom solutions.
Nirvanix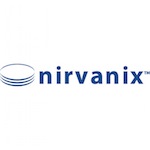 Nirvanix offers a fully managed cloud storage service designed from the ground up for the enterprise. http://www.nirvanix.com
PSSC Labs

PSSC Labs has delivered over 1500 High Performance Computing or HPC clusters, Linux clusters and clouds on high density, eco friendly and energy efficient platforms.
Earthlink Cloud

Cloud computing company powering today's IT with cloud hosting, dedicated server, cloud server backup, hosted exchange & other cloud IT services.
http://www.earthlinkcloud.com/
HPCC Systems
HPCC (High Performance Computing Cluster) is a massive parallel-processing computing platform that solves Big Data problems. The platform is Open Source. Enterprise Edition is a subscription-based offering of the HPCC technology for developers. It includes software, services and support to deliver the highest levels of reliability, security, and uptime proven over the years in mission-critical industrial settings. Prices are per year, per node with up to 8 CPU cores installed.
Google Storage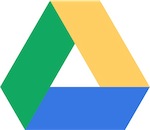 More of an S3 alternative than an EC2 alternative, there is Google Storage. "Google Storage is based on the company's own infrastructure. Pricing is calculated on usage of space and bandwidth." Also check our their other cloud platform tools
https://developers.google.com/storage/
Related Posts: