Food Prices, Time, and XP
Use this information to choose which foods you will serve. Perhaps you are going for money, or perhaps experience points to level up. No matter, this chart will show you the value of the food items you can prepare with the stove, and then calculations about how much of each thing you can accumulate per hour (ideally).

Products
Some products include:
Omelettes
Fruit Salad
Bacon & Eggs
Grilled Cheese
French Toast
Spaghetti
Clam Chowder
Macaroni & Cheese
Waffles
Chocolate Fondue
Burritos
Boiled Lobster
Stew
Seafood Pasta
How to Get Gems
Don't buy gems – they are expensive: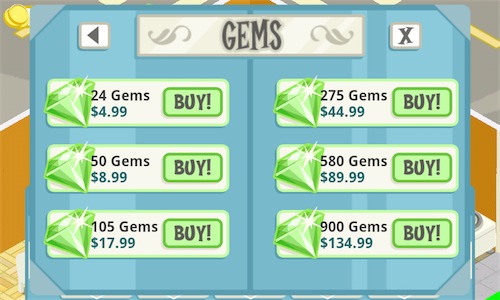 Aside from buying gems , there are only three documented ways to get Gems:
Install other games from Team Lava like: Bakery Story and Zoo Story
Bake the same thing over and over and you will get Rubys for as being "experienced" for this. Number of times is not documented.
Watch the "news" alerts daily for non Team Lava games to install, like Mafia Wars
If you click the link in the news feed, it will take you to the game page in itunes. you need to download, install, and run the game. If your gems don't appear, go back to "news" again and it will probably prompt you to install the game again. Click the OK button again, and it will take you back to itunes. Then when you go back to Restaurant Story your gems will be showing up.
Sometimes it may take a day or two before new "offers" for gems show up in your news. There is also a weekly in-game "update" that comes out, usually on Friday Saturday.
After your new gems show up you can safely uninstall the other games. Installing other Team Lava software, like Bakery Story or Zoo Story without getting prompted by Restaurant Story will not have an affect on your gems.
Know of another? Post it below.
Can I reset my Restaurant Story Account
No. But if you transfer your account to another iPhone or iPad, your original iPad / iPhone will start fresh.
Can I reset delete all data from my Restaurant Story Account?
No. But if you transfer your account to another iPhone or iPad, your original iPad / iPhone will start fresh.
How to Transfer a Restaurant Story an Account
Visit teamlava.com and click on transfer at the very bottom
Can I disable buying Gems in the game?
Yes – go to your iPad / iPhone settings, then restrictions, and disable in-game purchase from iTunes.
Related Posts: