I've been disappointed that the preview in the OS X Lion does not show multiple pages per sheet like Leopard and Snow Leopard did. I often do this to conserve paper when I'm printing lecture notes. With Leopard, I'm often doing this blind and get things out of order. Preview or Acrobat provide this functionality, but in Preview the functionality is hidden under the "Preview / Layout" dropdown option: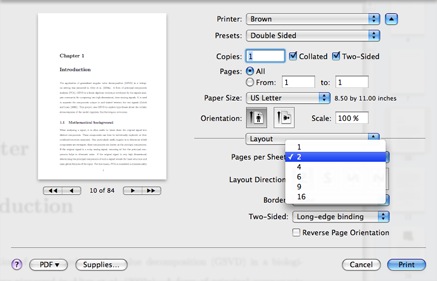 To print multiple pages per sheet, first select the Layout option from the Print dialog. It is part of the menu marked "Preview."
Then, choose the number of pages which should be printed on one side of a single sheet of paper.
With this example, there will be two pages on each side, for a total of four pages on a single sheet of paper when duplexed.
You can also optionally set the layout direction, and whether a border should be printed around each individual page.
Related Posts: