You want delivery options that fit your busy schedule. When you can't be available and you've missed a FedEx Express package delivery – whether it's a prescription, business documents or a gift from Grandma – you want simple instructions on how and where to pick up your package or how to request its redelivery.
Indirect Signature Required
FedEx will obtain a signature in one of three ways:
From any person at the delivery address; or
From a neighbor, building manager or other person at a neighboring address; or
The recipient can sign a FedEx door tag authorizing release of the package without anyone present.
Printable / Downloadable FedEx Door Tag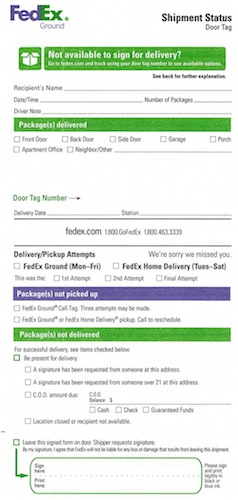 Related Posts: