AdWords Enhanced Campaigns are here and the real reason finally surfaces – Google wants to get rid of the gap between mobile and desktop ads. So much traffic is going mobile, but so many people have opted not to purchase advertising targeted towards mobile devices.
There is a lot of debate about whether or not a lot of conversions occur with mobile devices.
Don't be too Quick to Dismiss
I wish there was an option to control devices more easily in Search as well. However, I wouldn't be as quick to dismiss tablets. Most of my clients see equal or greater conversions from tablets now, I use my 7″ Nexus all the time to browse and buy products and the data I see from Analytics suggests that the customers of my clients do as well. (via)
What's The Real Reason For AdWords Enhanced Campaigns?
In addition to increasing adoption rates for mobile advertising in AdWords by greatly simplifying campaign creation, management and reporting for mobile search, Google wants to, eliminate the gap between mobile and desktop CPC's. (via)
How To Disable
In adwords choose the "Settings" tab and that is where you can make adjustments. At this time you can select the "Mobile devices with full browsers" segment and tell your bid adjustment to go down 100%.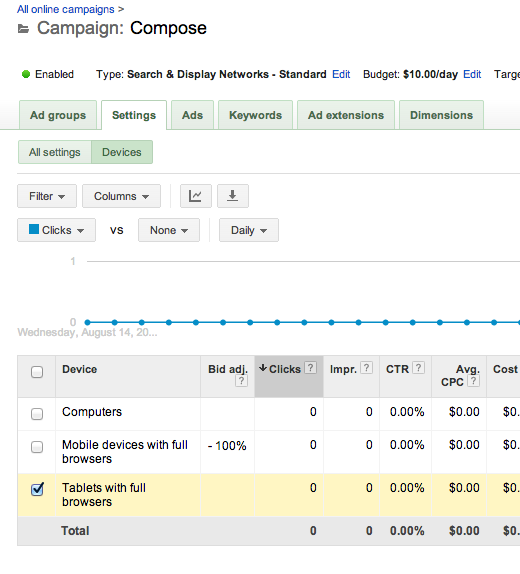 However, it appears that this unfortunate and annoying behavior that won't let you opt out of "Tablets with full browsers" is in fact by design from Google and there seems to be no way to get around it. Perhaps post your complaint here at this discussion board
Related Posts: