Are you frustrated that when you search g-mail there are only 20 results that show up at a time? It's quite difficult to review, mark, and move messages when the search results are limited to 20 messages.
Does it make sense that a "search company" which offers GIGABYTES of storage in their e-mail system limits your result count to 20? No. Of course not.
Solutions
Creating a Filter (thanks Stephan)
Create a filter with your search. Put your 
keywords in the "Contains the words" field,  then click "test search" 
and hit continue. Next, create a label and apply the filter 
(ignore the warning that this will never apply to incoming mail) 
for the mail below.

Of course it's complicated to create a filter each time you 
want to search for a large amount of  mail, but still better 
than the 20 mail-limit.
Suggest that Google fix it
Visit the GMAIL SUGGESTIONS PAGE and choose the second one from the bottom "Better message search functionality" – also, possibly choose the dropdown box at the bottom, select OTHER, and tell google you want more than 20 results! :)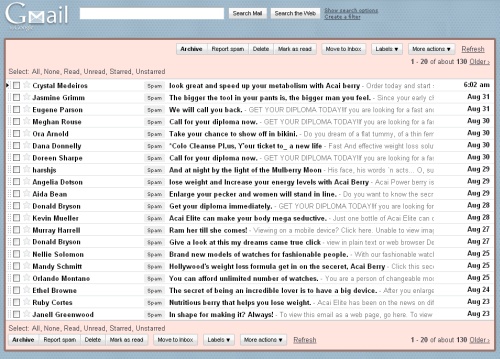 One Related Labs Feature
If you haven't seen QuickLinks in Google Labs, it's worth checking out. It still only gives you 20 results, but it is a way of having saved searches easily available without having to create a filter.
About Quick Links
Adds a box to the left column that gives you 1-click access to any bookmarkable URL in Gmail. You can use it for saving frequent searches, important individual messages, and more.
Related Posts: