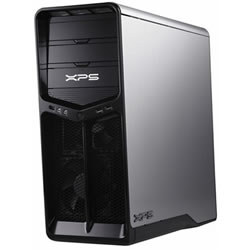 After doing quite a bit of research, I think it seems fairly impossible to successfully install Mac OS X on a Dell XPS 630i.
The first steps involved removing one of the video cards, and removing ram so that the system only had 4GB installed.
Next, I used iBoot and the official Snow Leopard 10.6 install CD. The standard configuration throws errors, so I used the options -v -f -x. The -v flag is what shows you the lines of code (as opposed to the gray screen with the apple on it).
After that, I received a "Still waiting for root device" error. This means that the installation can not access the hard disk. The solution to this on most systems is to adjust the AHCI mode, or "If you are using a SATA disk, make sure it is set for IDE legacy mode in the PC BIOS and not 'enhanced'" – unfortunately the XPS 630 has very limited options in the BIOS, and none of these things are present.
Another option to get past that error would be having an IDE hard drive present in the system – however, I don't believe any of the XPS 630i systems have an IDE connector.
Finally, using a custom version of OSX, like OSx86, or a 10.4 or 10.5 version with custom ktext drivers might be able to solve this problem, but A) I couldn't find a good version, and B) I wanted to run 10.6 and not anything earlier.
Please post comments if you have had any more luck than I did! :)
You might also check the Hackintosh Wiki as a good resource for the still waiting on root device error.
Related Posts: