I created a new Google Adwords Campaign for a small client. Everything seemed to be going OK. The client wanted to run a second ad with a different offer. I duplicated my current ad, changed the offer, and then was met with a "Limited due to Trademark" restriction.
I thought that was rather odd because the first ad was nearly identical to the second – and none of the words that were different were trademarked. Actually, I don't think any of the words, even in the client's name (the title of the ad – blurred for privacy), or the client's web address, were trademarked. I was confused and decided to e-mail Google's Adwords team.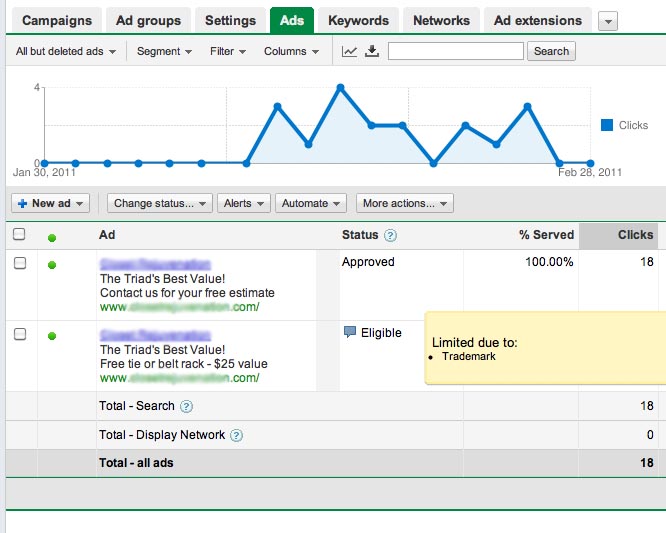 Here is where I'm currently at with them. I included the same screenshot included here with my e-mail.
TL;DR: Just skim my short responses to get an idea of what's happening :)


Original Message Follows:
------------------------
From: Will
Date: Tue, 1 Mar 2011

Thanks for your previous help. I've duplicated and edited an ad, but I'm
getting the same "trade mark" error as before.  I've attached a
screenshot. 
What did I do wrong? How can we fix it?




On Wed, Mar 2, 2011 at 8:01 AM, AdWords Support
<[email protected] wrote:

Hello Will,

Thanks for writing in. I am sorry that you've been getting the same
trademark issue as before when you submitted your ad.

I am not sure of the exact reason why that happened, it may be that your
message was triggered for potential trademark violation. If you continue to
face this difficulty, please send me a screenshot of the message/error and
I'll be happy to look into it.

For step-by-step instructions on how to capture a screenshot for different
operating systems, please visit
http://adwords.google.com/support/aw/bin/answer.py?hl=en&answer=100070

Additionally, I have escalated your ad being under review to our specialist
team, so please be assured that your ads will be reviewed shortly. I'll
update you once the ad has been reviewed.

We work hard to review all ads in our program as quickly as possible and to
provide high quality service. However, due to the volume of ads we receive,
there maybe a delay in some cases, and your ads may take longer than usual
to be reviewed.

While your ad is awaiting review, you might want to take the opportunity to
review our policies and ensure that your ads, keywords, and website comply.
See the AdWords policies at
http://adwords.google.com/support/aw/bin/static.py?hl=en&page=guide_toc.cs&path=policy
.

While some ads can run on Google before they are reviewed, no ad will run
on our search partners or Display Network until after it has been reviewed
and approved. To avoid an interruption to your ad delivery in the future,
consider creating a new ad rather than editing an existing ad. This process
will help ensure that one ad keeps running while your new ad is under
review.

Sincerely,

Mirinyo L
The Google AdWords Welcome Team

----------------




Original Message Follows:
------------------------
From: Will
Date: Wed, 2 Mar 2011 08:18:33 -0500

I already attached a screenshot with my previous message! I've attached it
again. Thanks.






On Thu, Mar 3, 2011 at 12:28 AM, AdWords Support <[email protected]  wrote:
Hello Will,

Thanks for sending the screenshot. I am sorry I missed the one sent earlier.

To address your query, there was a change to Google AdWords policy last year that
affected the Google AdWords trademark policy. In an effort to provide more relevant 
results and a higher quality experience for our users, we had adjusted our trademark 
policy in the US to allow some ads to use trademarks in the ad text. Going forward,
ads which meet the below criteria will not be removed for trademark policy if they
include a trademark in the ad text. Hence, you may see 'limited due to trademark' 
message when your ads targeting the US meets this criteria and will serve only in 
the US, on both google.com and within the Google Content Network.

As an additional information:

These ads will have limited serving, showing only in the US. Ads which may show with a 
trademark in the ad text include:

-Ads which use the term in a descriptive or generic way, and not in reference to the
trademark owner or the goods or services corresponding to the trademark term.
-Ads which use the trademark in a nominative manner to refer to the trademark or its
owner, specifically:
-Resale of the trademarked goods or services: The advertiser's site must sell (or clearly 
facilitate the sale of) the goods or services corresponding to a trademark term. The landing
page of the ad must clearly demonstrate that a user is able to purchase the goods or services 
corresponding to a trademark from the advertiser.
-Sale of components, replacement parts or compatible products corresponding to a trademark:
The advertiser's site must sell (or clearly facilitate the sale of) the components, 
replacement parts or compatible products relating to the goods or services of the trademark. 
The advertiser's landing page must clearly demonstrate that a user is able to purchase the
components, parts or compatible products corresponding to the trademark term from the advertiser.
-Informational sites: The primary purpose of the 
advertiser's site must be to provide non-competitive
and informative details about the goods or services corresponding to the trademark term. 
Additionally, the advertiser may not sell or facilitate the sale of the goods or services 
of a competitor of the trademark owner.

This change will affect all ads in the US.

I hope this information helps.

Got more questions?

We're here to help you figure things out in these early days and get you on the road to 
success with AdWords.  This AdWords Welcome service is available to you for the first 6
weeks of your AdWords account. Just email us your questions and we'll be happy to help!

Our online help resources can also provide you with the answers and tips you need 
(check out the links at the bottom of this email).

Sincerely,

Mirinyo L
The Google AdWords Welcome Team

----------------



Original Message Follows:
------------------------
From: Me
Date: Wed, 3 Mar 2011 01:11:23


Hi Mirinyo,

This does not help at at. Is that clear? Thank you for trying, but your message 
did NOT help me. Can you please tell me what about my ad is 
triggering a trademark error, and how to resolve it?

Thank you,
Will



Related Posts: