| | |
| --- | --- |
| | Monthly Product Update |
| | August 2012 |
| | |
| --- | --- |
| This month's Google Analytics features make it easier to learn about campaigns as they launch, access key reports, and incorporate conversion path data into your applications. | |
What's New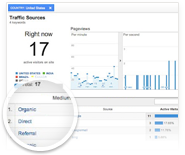 Segment Real-Time data
to learn about campaigns as they launch
In your Real-Time reports, click on a page element to segment your data by different dimensions, such as country or medium. Segmenting your Real-Time data can help you view the performance of a geo-located PPC campaign, measure which content is most popular in large metro areas, observe how social media is impacting site traffic from an industry conference, and more. Learn more.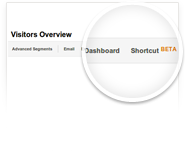 Save time finding your favorite reports with Shortcuts


Shortcuts help you get the exact view you want of your Analytics data in record time. Rather than having to go through the "find report, add segment, change sort" process daily, use Shortcuts to do it once, save it, and come back to it in a single click. Learn more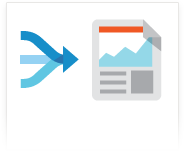 Easily export & analyze Multi-Channel Funnels
data with the API
Use the MCF Reporting API to query for metrics from the Analytics Multi-Channel Funnels reports and incorporate conversion path data into your applications. Key uses for this include combining conversion path data with other data sources–such as cost data–to create new visualizations, as well as using conversion path data to automate processes such as bidding. Learn more.
Case Studies & Education
Watch: "Multi-Channel Funnels" webinar to learn how to improve your marketing campaigns

Neil Hoyne, Google's Global Program Manager for Attribution, presented an in-depth look at Multi-Channel Funnels. Neil discussed the importance of marketing attribution and demonstrated how the Multi-Channel Funnels reports reveal details about the customer journey prior to a sale or conversion. Better understanding customers' interactions across different digital media can improve your campaign performance. Watch and enjoy.



Follow us on Google+ for tips, trends and news

To gain insights about Analytics and learn from industry leaders, check out our popular posts this month:




Case Study: Online food retailer slices shopping cart abandon rates for a 70% increase

LaTienda learned that shipping rates greatly impact shopping cart behavior and abandonment rates. For key regions, they were able to offer a lower flat rate shipping option to users, and with advanced segments, they observed a 70% increase in order completion for those regions. Read the full case study to learn more.
Thank you for reading our monthly update. Don't forget to share your thoughts with us through the feedback link below, and tell us what you'd like to see in future updates.

Happy Analyzing,
The Google Analytics Team

Was this information useful? Share your thoughts with us.

Google Analytics Resources: Google+ | YouTube Channel | Help Center | Developer Hub | Blog | Twitter
Related Posts: