On September 4th, 2012 yahoo Sign-in is down. That means signing into Yahoo Mail, Flickr, and other Yahoo services won't work. The server is just timing out and giving an error. Is yahoo over capacity? Instead of getting the yahoo signin screen: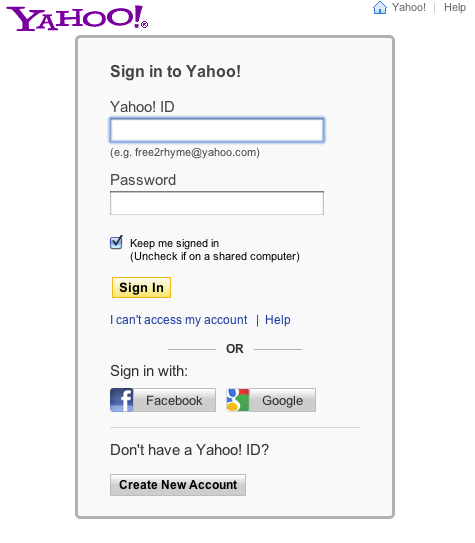 We're all just getting this: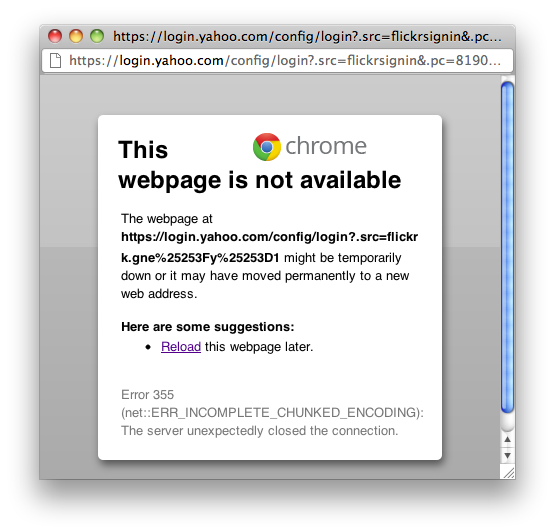 This is affecting login.yahoo.com
The error message which is showing is:
This webpage is not available
The webpage at https://login.yahoo.com/config/login?.src=flickrsignin&.pc=8190&.scrumb=0&.pd=c%3vVF9K2e6PzdPu7MBv2V8-&.intl=us&.done=https%3A%2%2Flogin.yahoo.com%2Fconfig%2Fvalidate%3F.src%3Dflickrsignin%26.pc%3D819026.scrumb%3D0%26.pd%3Dc253DJvVF5K62e6PzPu7MBv2V-%26.intl%3Dus%26.don%3Dhttp%253%252F%252Fwww.flickr.com%252Fsignin%252Fyaho%252F%253Fredi%253D%2522Fphoto_grease_postlogin.gne%25253Fd%2253Dhttp%253A%25252F252Fwww.flickr.com%25252Flogout_ok.gne%2525y%23D1 might be temporarily down or it may have moved permanently to a new web address.
Here are some suggestions:
Reload this webpage later.
Error 355 (net::ERR_INCOMPLETE_CHUNKED_ENCODING): The server unexpectedly closed the connection.

Related Posts: