The Google Adwords algorithm is a theory that often the first impression won't yield a conversion, and so they offer Adwords re-targeting.
What that means is when a user is searching for something, they'll be shown ads. Perhaps they'll even click one of those ads – but it doesn't mean the advertiser (payer) will get a conversion.
If there is no conversion, Adwords knows that the user is probably interested and perhaps just needs to be "impressioned" a few more times.
They use cookie tracking and lots of other good methods to follow you around to their affiliate sites (think Youtube video ads, ads on websites, etc) and will show you what they think you're interested in.
I recently took a look at the design of the SquareUp site and ever since then I've been seeing so many ads for their product.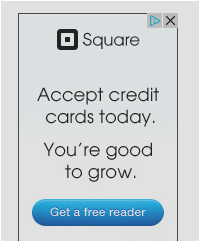 Amazon.com does a similar thing – if you visit their site you'll start seeing things that you looked at show up on other websites.
In short, that's what Google's Adwords' Re-Targeting is all about.
Related Posts: