Dear PayPal Customer,
PayPal recently posted a new Policy Update which includes changes to the PayPal User Agreement. The update to the User Agreement is effective November 1, 2012 and contains several changes, including changes that affect how claims you and PayPal have against each other are resolved. You will, with limited exception, be required to submit claims you have against PayPal to binding and final arbitration, unless you opt out of the Agreement to Arbitrate (Section 14.3) by December 1, 2012. Unless you opt out: (1) you will only be permitted to pursue claims against PayPal on an individual basis, not as a plaintiff or class member in any class or representative action or proceeding and (2) you will only be permitted to seek relief (including monetary, injunctive, and declaratory relief) on an individual basis.
You can view this Policy Update by logging in to your PayPal account. To log in to your account, go to https://www.paypal.com and enter your member log in information. Once you are logged in, look at the Notifications section on the top right side of the page for the latest Policy Updates. We encourage you to review the Policy Update to familiarize yourself with all of the changes that have been made.
If you need help logging in, go to our Help Center by clicking the Help link located in the upper right-hand corner of any PayPal page.
Sincerely,
PayPal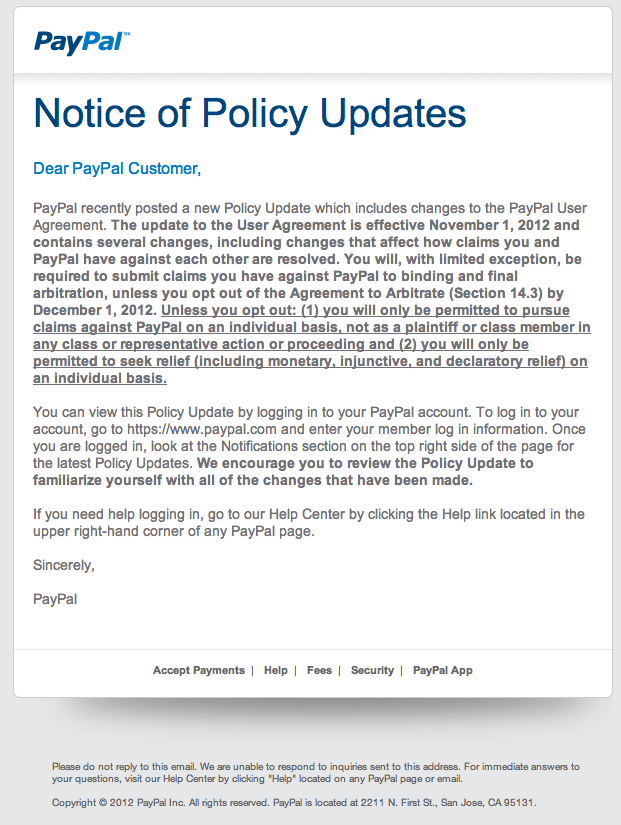 Related Posts: