Photoshop CS5 had a transparent background, while Photoshop CS6 has a dark, non-transparent, opaque background on Mac OS X (Snow Leopard to Mountain Lion). It's not hard to get this behavior back though.
This is an odd behavior because the "Standard Screen Mode" had a transparent background in all Photoshop programs CS5 and earlier.
Sometimes I like to toggle to the full screen mode with that has a dark grey background, but I also like to have Photoshop have a transparent (no-background) when no files are open, or sometimes I just like to work on top of the desktop and other applications so I can see what's happening in my browser window, etc.
I got so used to using the "F" key to switch between full-screen mode and the standard screen mode (Full Screen Mode, Full Screen Mode with Menu Bar, Standard Screen Mode)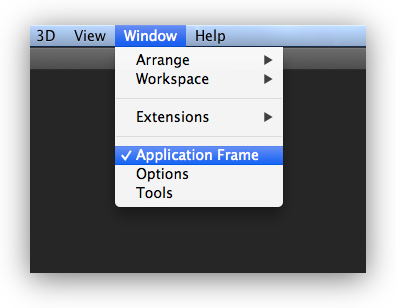 To fix this odd behavior, it's simply a matter of going to the Window menu and unchecking the Application Frame button.
Related Posts: