Dropbox just sent me an e-mail announcing they now have "Dropbox Links" – a "new feature"
Dropbox has, for a long time, offered special links to big files, first in your public folder, then anywhere in your dropbox.
The public file links allows you to share a link that will never expire. The other links (to non-public folders) will expire after a set period of time – and you can expire them early.
From one point of view, this "news" is nothing new.
There are a lot of companies now that are getting used to send files via email, like KickSend and SendBigFile – and it appears Dropbox wants a piece of the pie – that and also they are probably disappointed that not enough of their users know about this feature.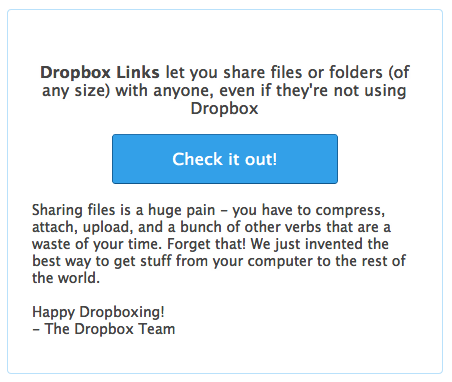 Dropbox Links let you share files or folders (of any size) with anyone, even if they're not using Dropbox
Sharing files is a huge pain – you have to compress, attach, upload, and a bunch of other verbs that are a waste of your time. Forget that! We just invented the best way to get stuff from your computer to the rest of the world.
Happy Dropboxing! – The Dropbox Team
Related Posts: