Amazon recently announced that they are enabling "detailled billing reports" – which is a great way to keep an eye on your AWS usage and costs. One of the wonderful things they are have enabled is a fine-tuned billing and even some projected billing.
To set this up, log in to your Amazon Web Services Console and visit the Billing / Usage Details for your account. Click on Billing (near the bottom left) and then 'sign up' for the detailled billing and the programmatic billing.
The reports will be saved to one of your S3 buckets – a few times per hour.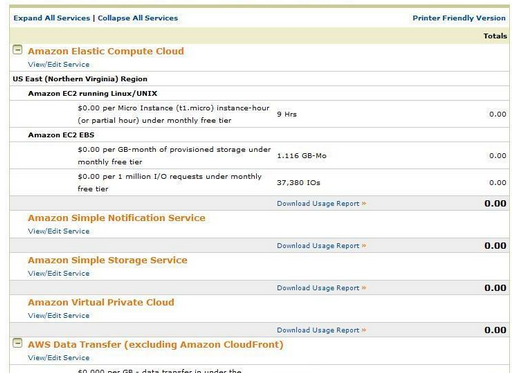 Dear AWS customer, We are excited to announce Detailed Billing Reports, a new hourly grain view of your AWS usage and charges. This detailed report enables you to better understand your AWS Bill by providing hourly usage and cost data by product and Availability Zone. In addition, consolidated billing customers can now view unblended rates and cost. This report is particularly useful for analyzing your usage of Amazon EC2 On-demand and Reserved Instances. To get started, visit the Billing Preferences page to sign up for Detailed Billing Reports. You will also need to sign-up for Programmatic Access, as reports are only published to your Amazon S3 bucket. AWS generates new reports based on your estimated bill multiple times per day and a final report for month end. To learn more about Detailed Billing Reports, please visit About AWS Account Billing. Sincerely, The Amazon Web Services Team
Related Posts: