Upgrading from Mountain Lion to Mavericks? You'll be forced to upgrade from 1Password 3 to 1 Password 4 but there are a few things that change.
First, there is a "1password Mini" that will run in the menu bar: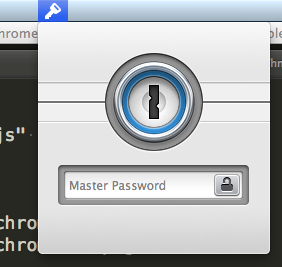 This has to do with having to have 1Password available for a connection to your browser.
Chrome with Address Bar / Omnibox via the 1p shortcut
Back in 2011 1Password announced their new omnibox address bar searching for chrome.
Apparently because of the new way that Mavericks works with sandboxing apps this is no longer possible (at least at this point).
Examining the extension shows that this capability has been completely removed.
Hopefully this will be back soon because it was very helpful.
Related Posts: