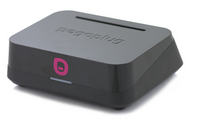 If you've installed Debian Squeeze on the PogoPlug you'll notice there is no longer an /sys/module/xce/sections/ or /dev/xce path for you to echo commands to. However, you can still control the LEDs by using the sys -> devices -> platform -> LEDS / GPIO
How to disable the LEDs
echo 0 > /sys/devices/platform/leds-gpio/leds/status:red:fault/brightness
echo 0 > /sys/devices/platform/leds-gpio/leds/status:green:health/brightness

How to make the LED green
echo 0 > /sys/devices/platform/leds-gpio/leds/status:red:fault/brightness
echo 1 > /sys/devices/platform/leds-gpio/leds/status:green:health/brightness

How to make the LED red
echo 1 > /sys/devices/platform/leds-gpio/leds/status:red:fault/brightness
echo 0 > /sys/devices/platform/leds-gpio/leds/status:green:health/brightness

How to make the LED orange / yellow
echo 1 > /sys/devices/platform/leds-gpio/leds/status:red:fault/brightness
echo 1 > /sys/devices/platform/leds-gpio/leds/status:green:health/brightness

You can also try using values 1-255 to control the brightness but I didn't see much difference between different numbers. ymmv.
Also, if you wish to read the status of the LEDs you can do so by using something like cat with these paths:
cat /sys/devices/platform/leds-gpio/leds/status:red:fault/brightness

A value of 0 indicates the LED is off.
Most likely if you are running Debian there will be no events that turn the LEDs on – but in case you have issues you can disable system events from triggering the LEDS you also need to change the 'triggers' – first check out the existing ones:
 cat /sys/devices/platform/leds-gpio/leds/status:green:health/trigger

This results in:
 [none] nand-disk timer oneshot ide-disk1 ide-disk2 heartbeat gpio default-on mmc0

And for the red led use:
 cat /sys/devices/platform/leds-gpio/leds/status:red:fault/trigger

Which should result in:
 [none] nand-disk timer oneshot ide-disk1 ide-disk2 heartbeat gpio default-on mmc0

Next, to disable the events from triggering the LEDs run:
 echo none > /sys/devices/platform/leds-gpio/leds/status:green:health/trigger
 echo none > /sys/devices/platform/leds-gpio/leds/status:red:fault/trigger

Related Posts: