If you've used an iPad before you might be font on changing the switch on the side of the device from it's default of "Mute" to the function of "Lock Rotation" which is pretty nifty: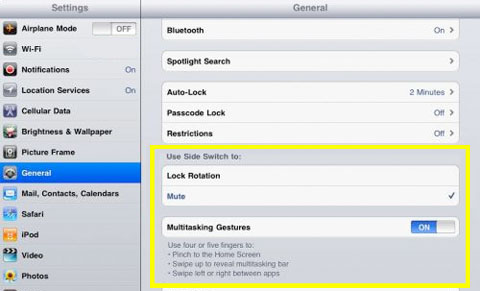 On the iPhone you won't find the option in the usual place under the Settings -> General menu. Unfortunately the option doesn't exist at all, as of iOS 6.0.1
The only way to lock and unlock rotation is by double tapping the home button so the list of applications comes up at the bottom, then sliding it to the "right" to expose an area at the left that has quick adjustment for sound and also the "Lock Rotation" option.
In order to swap the switch you'll need to JailBreak your phone and install something like Cydia that will allow you to change things like this.
Why Does Apple Prevent You from changing this in the First Place?
Most of the time the phone is going to be in portrait mode anyway – think about applications like mail and messaging
With the volume buttons you can't turn the sound all the way off (accidentally) so you need the extra switch to make it go to "mute"
Related Posts: