As of July 2013 Google Webmaster tools has a "new and improved" navigation. They alert you when you login.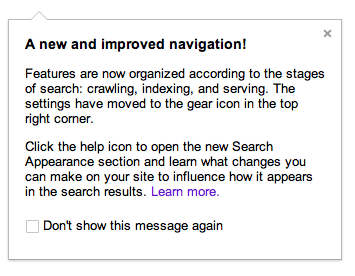 A new and improved navigation!
Features are now organized according to the stages of search: crawling, indexing, and serving. The settings have moved to the gear icon in the top right corner.
Click the help icon to open the new Search Appearance section and learn what changes you can make on your site to influence how it appears in the search results.
One of the main features is "Search Appearance" which has information about the data highlighter, rich snippets, and microformats. More info about those at https://support.google.com/webmasters/answer/3187759
Related Posts: