When I click somewhere on a line of text – in the empty space part after content – the cursor moves to the exact position I've clicked rather than jumping to the end of the line like every other editor seems to do.
This is how to reset this behavior and fix Textmate – that is, to click and have the cursor move to the end of that line and not to the actual position you click with the mouse.
This is caused by Freehand Editing mode being turned on. Here are the two editing modes that Textmate allows, and here is how to enable / disable both of them:
Freehand Editing
(Edit » Mode » Freehand Editing)
Allows the caret to move past end of line and inside tab characters.
It is also possible to place the caret unrestricted by line endings (and tabs) by holding down ? while placing the caret with the mouse.
Overwrite Mode
(Edit » Mode » Overwrite Mode)
This lets you type over existing text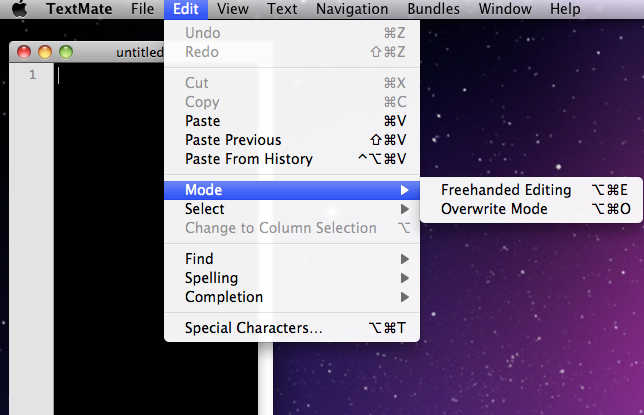 Related Posts: